Commercial Insurance Options
As an Independent insurance agent, we do the legwork for you. We are part of the largest alliance of Independent
agencies in the country and have access to over 20+ National Name Brand carriers. You do not need to search for hours looking for the best deals. We know which insurers offer specific coverage types and this allows us to personalize your coverage based on your specific needs. At The Good Insurance Group, we know the industry, understand policy language, and stay abreast on recent trends. We can simplify the buying process, provide expert, unbiased advice, and help you minimize your risk. Buying insurance based solely on price does not necessarily mean you are getting what you need.
Consider Your Coverage Options
Commercial insurance includes products such as commercial auto insurance, workers compensation insurance, federal flood insurance, health insurance and medical malpractice insurance. Commercial insurance protects businesses against potentially devastating financial losses caused by accidents, lawsuits, natural disasters, and other adverse events. Available coverage and premium costs vary by business type, size, and location.
General Liability
Commercial Auto
Professional Liability
Identity Theft & Cyber Liability
Umbrella & Excess Liability
Fiduciary Liability

Business Interruption Insurance
Business Owners Policy (BOP)
Workers' Compensation
Liquor Liability Insurance
Inland Marine Insurance
Federal Flood Insurance

Employment Practices Liability
RIdeshare Insurance
Express & Surplus Insurance
Employee Pet Insurance
Health Insurance
Dental Insurance
By getting you quotes from multiple companies such as Liberty Mutual, Travelers, Nationwide and many more we can give you multiple options so that you can make the best decision for your business.
Recent Examples of our Commercial Savings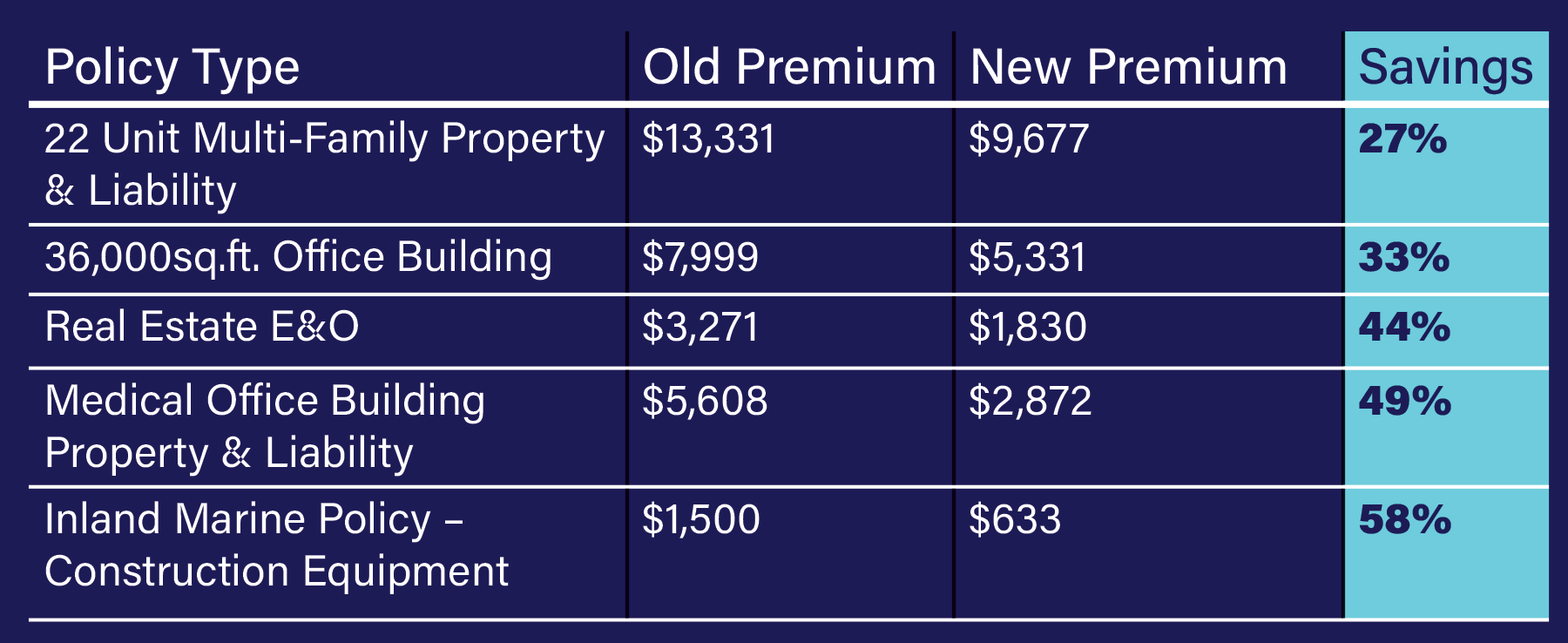 Commercial Umbrella Insurance
When a catastrophic liability loss occurs, an umbrella insurance policy can mean the difference between a business surviving, or not. What happens if your business is sued and the judgment amount exceeds the liability limits of your primary insurance policy, or you have multiple claims and the limits are exhausted? Not having adequate coverage for lawsuits can leave your business exposed.
Commercial Umbrella Insurance provides an extra layer of liability protection by covering costs that go beyond your other liability coverage limits. Essentially, it complements your other liability coverages by taking over when your other liability coverage limits have been reached.
Contact Us
Each business is unique and the level of protection you need varies. Using our national insurance rater, we can find a business owner's, builder's risk, general liability, health insurance, or other policy that is custom-made for your business needs. By getting you quotes from multiple companies such as Liberty Mutual, Travelers, Nationwide and many more, we can give you multiple options so that you can make the best decision for your business. Contact the experts at The Good Insurance Group, LLC today for a free rate quote.
Employee Benefits
For any business, big or small, benefits serve as a crucial part of an employee's decision to accept a new job, or to remain at one. From health care, to vacation time and life insurance, employees are looking for these added benefits to go along with their salary and are considering the entire benefits package before accepting employment at a new company. Offering a variety of benefits to employees helps employers attract and retain high-performing staff and avoid exorbitant expenses in the long run.
Health Insurance - Another reason employers willingly provide health care benefits is to take advantage of economical health insurance plans, which, in turn, provide them with tax breaks. While offering health care benefits is not mandatory for most small businesses, one cannot deny that they are a huge draw for employees. The Good Insurance Group, LLC can work with any size business to put together a Health Care plan that fits within your budget and is appealing to employees.
Life Insurance - Life insurance provides peace of mind for an employee who is concerned about how his or her family will fare financially in the event of their death. Life insurance provides a financial cushion for the employee's family or other survivors in most cases of an employee's death. Life insurance is an attractive employee benefit, and sought-after employees expect life insurance as a component of a comprehensive employee benefits package.
From cost effective rates to customized policies based upon your business's individual needs, the financial specialists at The Good Insurance Group, LLC can help you find the perfect solution to attract and retain the best employees. Contact them today for a free quote.